The Most Beautiful Monasteries Of Greece
They are carved into the cliffs and steep slopes, are some of the most beautiful monasteries in Greece in the most photogenic poses. Engage in an eerie charm us all. Perched on top of lush mountains, carved into the cliffs and even in the depths of the canyon, overlooking breathtaking. Some of the most beautiful monasteries in Greece and a few words about each of them. Enjoy.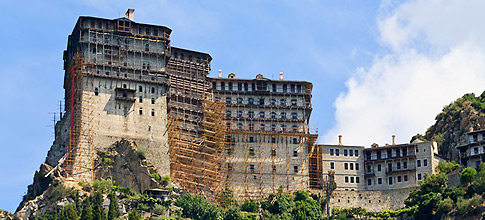 Simonopetra monastery, Mount Athos
Known as Simonopetra, is one of the most photographed monasteries of Mount Athos -those that seems to hang over the sea, at an altitude of 300 meters. It started being built in 1257, and is according to Wikipedia one of the bold construction of the Middle Ages.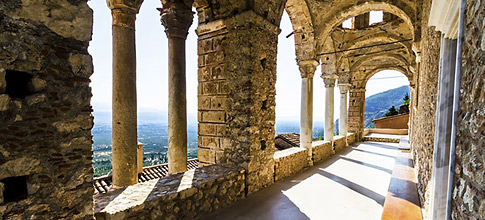 Panagia Pantanassa Mystras
The only one of the monasteries of Mistra inhabited yet, striking Pandanassa inaugurated as stated by the Ministry of Culture in September 1428. The oldest frescoes dating from 1430. According to Wikipedia, here is the tomb of the Emperor Constantine wife Paleologos, Theodora.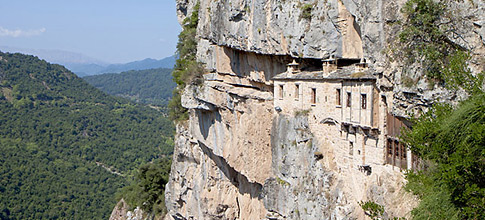 Kipina, Tzoumerka, Epirus
Carved into a completely vertical cliff, is perhaps most impressive monastery of Epirus. It was built around 1212, is located near the village Kalarrytes and "owes" the name of the gardens cultivated near the monastery monks. The road reaches the base of the cliff and from there a path carved into the rock and then a wooden bridge leading to the monastery. During the Turkish rule, the wooden bridge was mobile and monks retract lever to be protected from raids.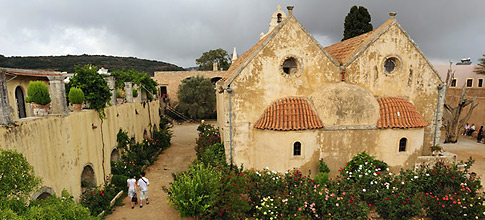 Monastery of Arkadi, Rethymnon
The tradition wants to founded by Emperor Heraclius of Byzantium in the 5th century. It is built in lush plateau above the gorge of Ida Mountain, 23 km from Rethymno.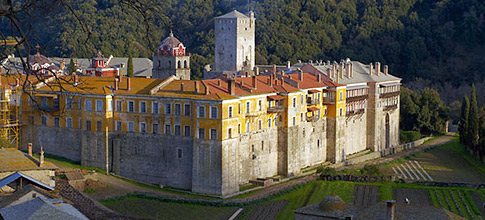 Iviron, Athos
With a history that starts somewhere in 1010, and architecture reminiscent of medieval tales, is one of the most impressive monasteries on Mount Athos. Accommodates 35 monks and has sixteen monasteries.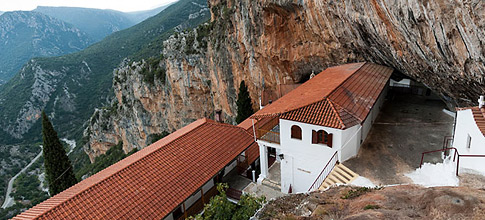 Elona Monastery, Arcadia
Known simply as members, dates from 1300 and is a nunnery carved in a cliff Parnon, 17 kilometers away from Leonidio.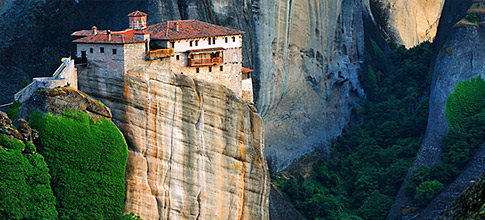 Roussanou Monastery, Meteora
Known as arsenal, is one of the most photographed monasteries of Meteora, if not the entire country (the one starring, among others, on the cover of Lonely Planet for Greece). Probably first inhabited in 1388, was deserted for many years and was rebuilt in 1529.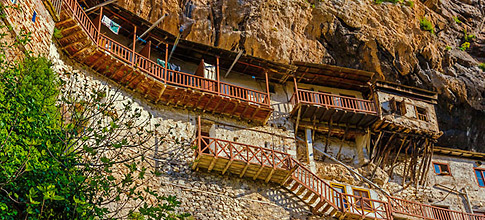 Monastery of St. John the Baptist, Lucius, Arcadia
It is carved into the rock, two hundred feet above the bed of Lucius, in the heart of the green canyon. Known as the Great Cave, is a popular destination for hikers. Dating back to the 12th century, while the surviving paintings are from the 16th.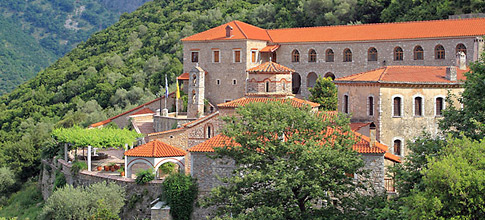 Monastery Giromeri, Filiates, Thesprotia
Founded in the early 14th century, somewhere between 1310 and 1320, by the Blessed Nile. Numbered at its peak (the 16th century) on the three hundred monks.