Archaeological sites: Temple of Poseidon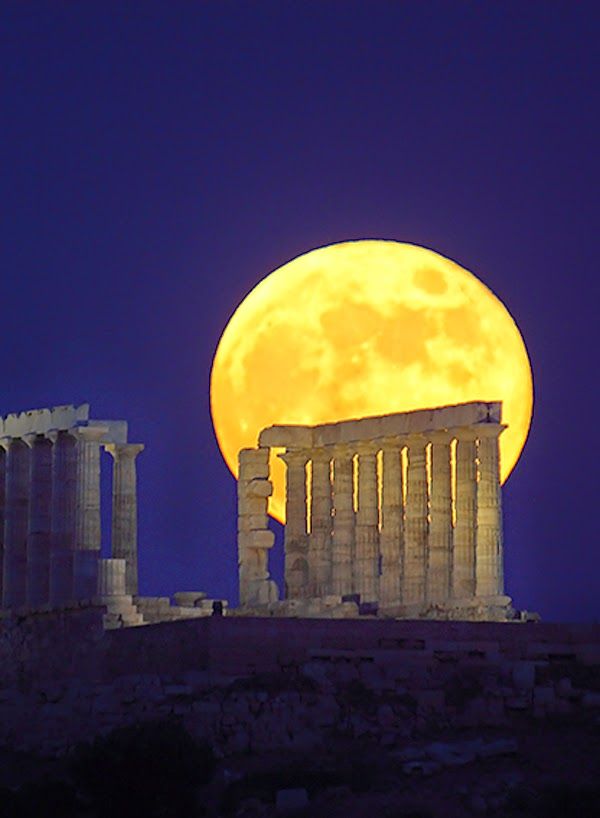 Moon rises next to the ancient Greek temple of Poseidon at Cape Sounion
The ancient temple built by the Athenians in honour of Poseidon, the mighty god of the sea, stands tall on top of a natural hummock surrounded by water on the southernmost edge of Attica.
The Athenians started a new building project during Pericles' Golden Years, resulting in the construction of a new temple, placed between 444 and 440 B.C., when the city was at its peak. The hilltop was flattened especially for this purpose and the remains of the old temple were removed and finally incorporated in the fortification walls. The new temple was Doric peripteral, with two columns between the antae of the pronaos and the opisthodomos and was entirely made out of Parian marble. There was a relief frieze depicting a Centauromachy running down the length of the pronaos, while other statues – preserved in very poor condition – decorated the pediments and the peaks of the roof. Its great similarity to the Hephaisteion (Theseion) in the Ancient Agora of Athens could mean that they were designed by the same architect.
The monument remained standing for more than two millenniums. From the 18th century onwards it was repeatedly ransacked and today some of its columns have appeared in Chatworth (England), in Venice and in Potsdam (Germany). The remains of the sacred temple have become a warning sign for seamen that they are approaching the entrance of the Saronikos. The sanctuary of Poseidon, standing tall in all its whiteness, is commonly known among them as Kavokolones (cape columns) and has inspired many travellers, romantic writers and poets. The incredible view of the archipelago and the magic sunsets make this amazing construction even more unique.