Sfougato: Greek – Cretan word for omelet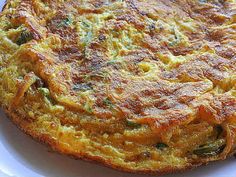 One of the most delicious and quickly cretan  food is the omelete (Sfougato).  
The ingredients that you will need to enjoy the  omelete  is that we will give you the ingredient so you can cook it step by step.
The ingredients are:
For 2-4 people
Two (2) kilos potatoes
Four (4) eggs
How Salt, Oil and ¼ cup of milk
Follow the steps
   1)  Firstly we peel the potatoes and then we wash them very good,wethen cut them like chips and then salt them. After we have salted them we put a towl over the bowl for a couple of minutes.
2)     We put oil in the pan and put it on the stove so it can start to heat up. When the oil has heated very well we start putting the potatoes to fry. While the potatoes are frying we brake the eggs in a bowl with the milk and a little bit of salt and we start whisking it. The milk helps the omelete to be nice and fluffy.
When the potatoes have been fried we then pour the mixture over the potatoes.
We let it cook on one side first and when you see the side nice golden colour.
We then put a plate on top to help us turn it over so it can cook as the same as the other side. When the other sied is cooked we take it off the stove and we can
Then serve on the plates with a nice salad on the side and a nice glass of wine.
 Enjoy your meal….